The following were drawn up during a mentoring session this morning.
How do I start?
The first thing we need to do is get the business essentials in place. A business identity and a professional presentation are very important.
An @Hotmail.Com address, or other such generic e-mail services, is definitely not professional at all.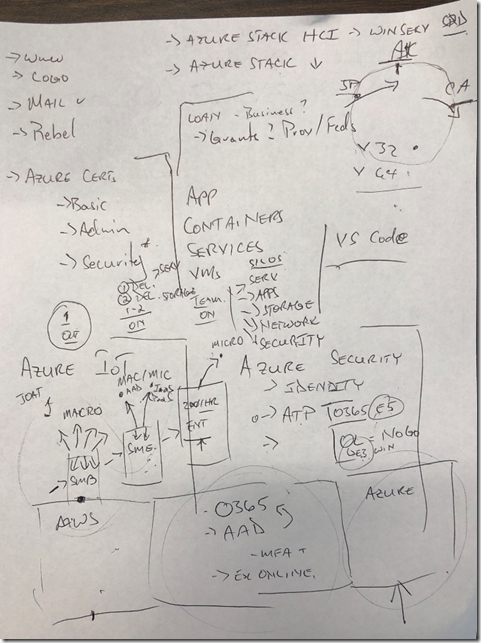 Steps to start a consulting business with growth pattern
Critical to the process is a well thought-out business plan with research into a business name, domain names, and more.
Domain registered (We use Rebel)
Business Incorporated, Limited, ETC.
A logo in-process
Microsoft Partner (MPN) set up
E-mail set up and online
Azure MPN Subscription set up
Social Media sites set up and configured
The direction this particular person is looking to go into is hybrid cloud with an all-in cloud secondary focus.
Starting out with Office 365 after registering with the Microsoft Partner program is a great place to get one's feet wet. It is, after all, a freebie via the Microsoft Partner program. Plus, there's an Azure credit to be had there as well.
One suggestion for certification would be Azure related once things have started to progress along.
Business Focus and Growth
The MACRO, MAC/MIC, and MICRO drawing in the above snip was broken out down below.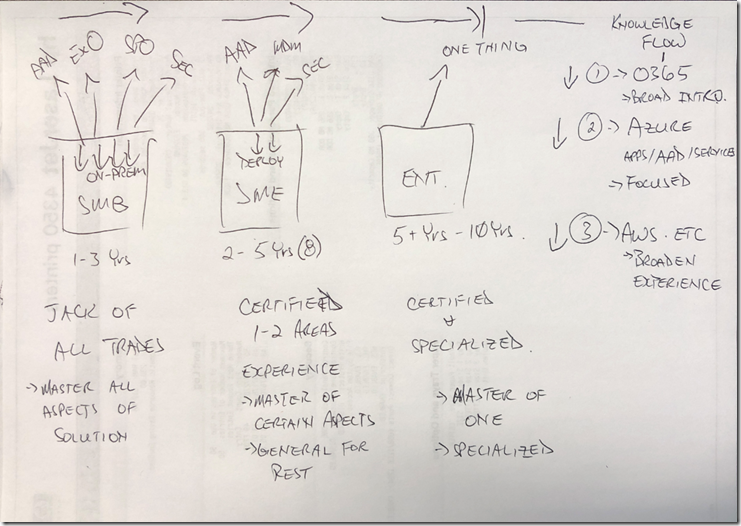 Business development steps SMB to Enterprise with approximate timeline
The best place to start off would be in the SMB space since one needs to get a handle on a number of different solution sets. One needs to wear a number of different hats thus the big picture MACRO view.
One advantage to starting off with a SMB focus is the amount of business related knowledge we can learn from other small to medium business owners. Most SMBs love to share. 🙂
As the skills improve it would be time to get certified in one or two areas. The areas of interest should stand out after working in the field for a few years.
In time, projects may come along in the medium enterprise environments with a focus on the skills that are well honed. Word of mouth and a well established social media following would be very helpful.
Depending on the goals, one could end up in enterprise environments with a very specific focus, the MICRO in the above.
Skillsets Learned
The knowledge flow along the top:
SMB
Small to Medium Business
Need to address most if not all business needs
Process management
Project management
SME
Small to Medium Enterprise
Tendency to focus on a few aspects of business process
May involve project management
Specific skillsets are required
Enterprise
Specialised skillset(s) prized
Project management
Team management
The upward arrows indicate business to cloud services while the arrows downward within the box indicate cloud to on-premises services.
The time indicated is the approximate time to grow in each business environment then into the next. It's a very loose interpretation as some may find their way into any of the three business categories in short order.
Cloud Services to Learn
The knowledge flow from the top right down:
Office 365
A great way to get into cloud
Mail flow with Exchange Online management
PowerShell
SharePoint Online
Security Services
Azure Active Directory
InTune (Deployment)
Azure
PaaS (Platform as a Service)
IaaS (Infrastructure as a Service)
Azure Active Directory (Security)
Web Apps
Containers
*NIX
SQL
Third Party
With an established business in place, one could afford to investigate other options
Sometimes, customers/clients may require third party
Go for it! Get in and work on other products when time permits
The above is by far nowhere near a complete list of what's available out there today never mind what is to come tomorrow.
Conclusion
While it's mostly taken for granted today, e-mail is one of the most critical business services today. Without it, some business may take a serious hit or even go under.
An important element to all of the above is knowing how to keep a business up and running in the event of an outage or data-loss situation by the cloud provider. Being aware of the various needs (Cloud Security Overview) for cloud and on-premises hybrid continuity and security is a must.
Whether one is just starting out or looking to change fields, the above guide is a 3 thousand metre look at where to start.
Have a great day and thanks for reading!
Philip Elder
Microsoft High Availability MVP
MPECS Inc.
www.s2d.rocks !
Our Web Site
Our Cloud Service