Attending Microsoft Ignite events over the last number of years have always been very rewarding.
This year, we're knee deep into building out a new business that includes Azure Stack HCI certifying custom platforms. We've invested all of our R&D budget and time into this process so no go on Orlando for 2019. 🙁
Here are some key takeaways garnered over the many different Ignite events.
Sessions: Search and choose by speaker name

This means knowing who is best to sit in on for a given topic
Yields the most information on a given topic

Sessions: Search by topic

Pick keywords for a given topic
Start broad with a single word
Fine tune based on additional keywords

Sessions: Approach the speaker post session

Any topic of interest is bound to generate questions … ask them
Introduce yourself. Put a face to the name (works both ways)

Event Floor: Microsoft Product Focus Booths

The Microsoft product focus booths are the best place to be
Meet Microsoft MVPs you may have chatted with on the many forums we participate in
Meet members of the Product Group
Microsoft and MVP Speakers are almost guaranteed to be found here

Event Floor: Vendor's Booths

This is one of the best technology focuses events in the world, IMNSHO of course. 😉
Vendors spend a lot and send their some of their best
Take the time to ask the product engineers questions
Dig in, they are more than happy to talk about what their products can do
As far as toodling around the venue goes, here are a few key pearls.
Accommodations

This one may be a bit late, but stay a little ways away from the venue and walk there and back
Some fresh air and sunshine is refreshing after spending the day inside
There is always a ride share a tap away

Event Venue

Floridians like their A/C up high so it may be chilly inside

Carry a couple of sets of sponge ear plugs with you

The _best_ swag ever handed out at any Ignite I received was a set of ear plugs!

Wear comfortable shoes or sandals

This is important. The venue is _huge_!

Have water always available

Carry a water bottle and drink it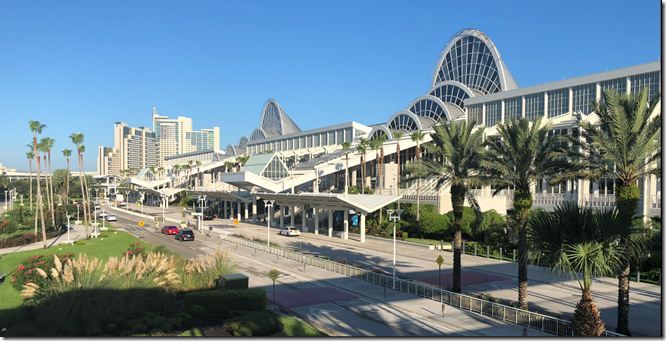 Orlando Convention Centre
Yes, the venue spans something like two or three city blocks!
Besides the above, the "hallway conversations" can be some of the best ways to chat about what is happening in technology today and to ask some of the brightest Microsoft focused technologists in the world a question! 😀
All the best to those working, speaking, and attending Microsoft Ignite this year! It's bound to be a great one.
Philip Elder
Microsoft High Availability MVP
MPECS Inc.
www.s2d.rocks !
Our Web Site
Our Cloud Service