Courtesy of AMD (thanks Marco!), we have a couple AMD EPYC Rome 7502 series CPUs for our systems we plan on Azure Stack HCI certifying!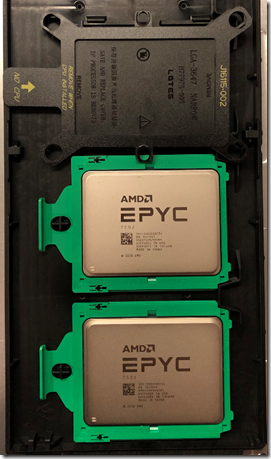 AMD EPYC Rome 7502 Processors with Intel Scalable Socket Cover
In the above image we laid an Intel Xeon Scalable socket cover above the AMD EPYC Rome processors to compare their sizes. They look pretty close.
To date, we've not seen much of an Intel CPU price decline in the System Builder Channel. But, prices are sure to come down given AMD's prices being substantially lower.
We've been doing a lot of planning around incorporating AMD EPYC Rome into our solution stacks and with good reason.
The new processor's feature set are currently second to none:
Up to 128 physical cores via two (2) 64 core AMD EPYC Rome 7702/7742

Thermal boost versions can bump up performance … and the heat

Up to 256MB Layer 3 Cache

The cache structure in Rome brings a _lot_ of data close to the cores

4TB of RAM in a single socket server or 8TB of RAM in a dual socket server

No special SKU for the additional RAM requiring additional cash outlay
High density virtual servers at a reasonable cost

"P" Series processors for single socket at reduced prices
PCIe Generation 4

Doubles available PCIe bandwidth
Gives us dual dual-port 100GbE network cards with full bandwidth

Architecture Tweak: 160 PCIe Gen4 Lanes

Hardware vendors can tweak their server boards to push 32x PCIe lanes out to peripherals from CPU interconnect in dual socket setups

24x U.2/U.3 NVMe Drives Natively

Meaning, no need for a PCIe Switch/Extender in a PCIe slot to make this happen

PCIe Switches 8:1 or 4:1 are re-timers … they limit bandwidth substantially

There are U.3 PCIe Gen4 NVMe drives starting to show up with performance tests. Wow. Just wow! 8*O
We have two TYAN 2U AMD EPYC Rome single socket servers in the shop. We will be building them out soon with the goal being to Azure Stack HCI certify them.
We plan on posting more about our journey to an AMD Azure Stack HCI platform!
Note that we know there will be a few hoops to jump through before that happens. We plan on getting through them. 😉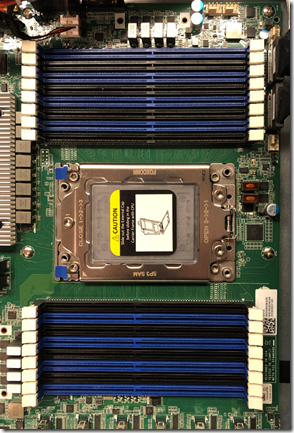 AMD EPYC Rome Single Socket Server Board Capable of 4TB ECC (TYAN)
We see a lot of potential in the AMD product coming down the pipe and are looking forward to working with key AMD Platforms in our Proof-of-Concept labs.
As an FYI, we use the following grid for quick reference quite a bit: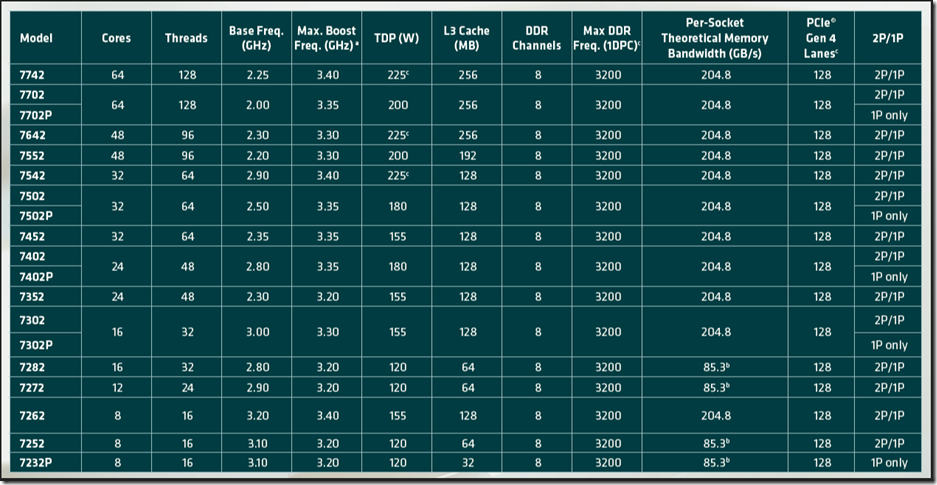 At-A-Glance AMD EPYC Rome Model Grid
Here's to a fantastic 2020 everyone!
Merry Christmas and a Happy New Year to all y'all! 😀
Philip Elder
Microsoft High Availability MVP
MPECS Inc.
www.s2d.rocks !
Our Web Site